This event has already occurred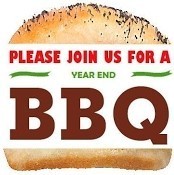 Save to your Calendar
To all adult members of the congregation. You are cordially invited to attend the Wesley Men's Club wind-up BBQ. Tickets and sign up will be available at the back of the church on May 19, 26 & June 2 as well as in the church office. Tickets must be purchased in advance. In order to plan the food requirements we request that you purchase your tickets by no later than Wednesday, June 5 (by 6:00 pm). NOTE: THE CHURCH OFFICE CLOSES AT 3:00 PM.
Menu: Deluxe Burgers, buns, fixings, salads, dessert, coffee, tea, cold beverage (lemonade, water)
Cost: $13/person or $25/couple
Please bring your favorite cold or hot beverage if you want something other than water, lemonade, coffee, tea (excluding alcoholic beverages). For everyone's information - this is an evening of fellowship and socializing and not a regular meeting for the men's club. Besides, anytime you don't have to cook it's a good deal! We look forward to seeing everyone at the BBQ. Contact Darwin Roske if you have any questions.