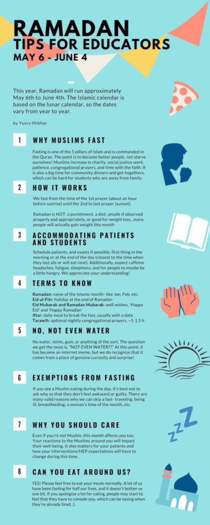 Ramadan - Tips for Educators
This year (2019), Ramadan will run approximately May 5th to June 4th. The Islamic calendar is based on the lunar calendar, so the dates vary from year to year. by Yusra Iftikhar
Why Muslims Fast
Fasting is one of the 5 pillars of Islam and is commanded in the Quran. The point is to become better people, not starve ourselves! Muslims increase in charity, social justice work, patience, congregational prayers, and time with the faith. It is also a big time for community dinners and get-togethers which can be hard for students who are away from family.

How It Works
We fast from the time of the 1st prayer (about an hour before sunrise) until the 2nd to last prayer (sunset).
Accommodating Patients & Students
Schedule patients and exams if possible, first thing in the morning or at the end of the day (closest to the time when they last ate or will eat next). Additinoally, expect caffeine headaches, fatigue, sleepiness, and for people to maybe be a little hangry. We appreciate your understanding!
Terms To Know
Ramadan: name of the Islamic month - like Jan, Feb, etc.
Eid ul-Fitr: holiday at the end of Ramadan
Eid Mubarak and Ramadan Mubarak: well wishes, "Happy Eid" and Happy Ramadan"
Iftar: daily meal to break the fast, usually with a date
Tarawih: optional nightly congregational prayers, ~1-1.5 hours
No, Not Even Water
No water, mints, gums, or anything of the sort. The question we get the most is, "NOT EVEN WATER??" At this point, it has become an internet meme, but we do recognize that it comes from a place of genuine curiousity and surprise!

Exemptions From Fasting
If you see a Muslim eating during the day, it's best not to ask why so that they don't feel awkward or guilty. There are many valid reasons why we can skip a fast - travelling, being ill, breastfeeding, a woman's time of the month, etc.

Why You Should Care
Even if you're not Muslim, this month affects you too. Your reactions to the Muslims around you will impace their well-being. It also matters for your patients and how your interventions/HEP expectations will have to change during this time.
Can You Eat Around Us?
YES! Please feel free to eat your meals normally. A lot of us have been fasting for half our lives, and it doesn't bother us one bit. If you apologize a lot for eating, people may start to feel that they have to console you, which can be taxing when they're already tired.
Ramadan in Regina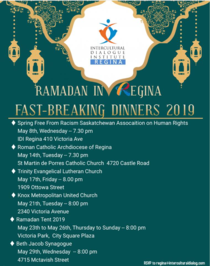 Fast-Breaking Dinners 2019
Spring Free from Racism Sask Asso on Human Rights
May 8th, Wednesday - 7:30 pm
IDI Regina 410 Victoria Ave
Roman Catholic Archdiocese of Regina
May 14th, Tuesday - 7:30 pm
St Martin de Porres Catholic Church 4720 Castle Rd
Trinity Evangelical Lutheran Church
May 17th, Friday - 8:00 pm
1909 Ottawa St
Knox Met United Church
May 21st, Tuesday - 8:00 pm
2340 Victoria Ave
Ramandan Tent 2019
May 23rd to May 26th, Thursday to Sunday - 8:00 pm
Victoria Park, City Square Plaza
Beth Jacob Synagogue
May 29th, Wednesday - 8:00 pm
4715 Mctavish St
RSVP to regina@interculturaldialog.com